Company Profile
Tonggao Advanced Manufacturing Technology (Taicang) Co., Ltd. is a high-tech enterprise focused on providing metal automation connection solutions for enterprise customers:
●The company was established in 2014 with a registered capital of 72 million. The company is located in Taicang Port Economic Development Zone with nearly 65 employees, including 1 national "10,000-person plan", 2 national high-end foreign experts, 4 doctors and 12 masters. Staff undergraduates account for 90%
●The company mainly provides professional engineering and technical services for the automotive, marine, high-speed rail and aerospace manufacturing industries, especially in the process and automation equipment technology of high-power laser welding, robot piping and aluminum alloy cold connection.
●Main customers include BMW, Geely-Volvo, Volkswagen, General Motors, Ford, Kehua, China CNR and other companies adhere to the three values of innovation, technology and service, hoping to provide customers with newer, better and more services
Company plant
Customer cooperation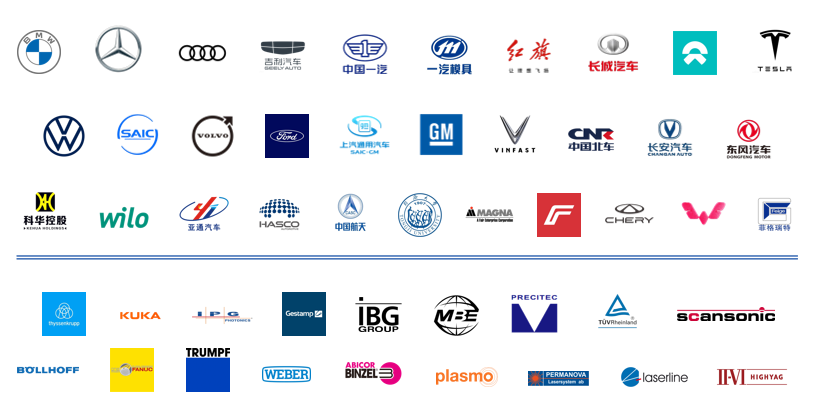 Our milestones
2020
Taicang Port's 35-mu self-built factory was officially opened
2019
·Successfully produced the 70th Anniversary Red Flag Parade Car (Laser Brazing on the Roof)
·Chairman Tang Xudong was selected as the fourth batch of national "Ten Thousand People Plan"
·Undertake the first FAW Hongqi four-door laser welding project, the independent brand successfully introduced the laser flight welding process
·First undertaking automobile assembly line and battery packaging and wiring project
·For the first time undertook the SAIC Thailand Robot Rolling Project, successfully entered the Thai market
·Delivered the first fully self-developed laser thermal conduction welding station and achieved stable mass production
·Signed the first heavy truck laser cutting project
·On October 21, Heistamp (Japan) laser room project was signed
2018
·The first rooftop laser three-spot brazing station was launched in overseas markets, marking the company's leading independent integration technology
·In July, Tonggao (Shanghai Jiading) office was officially opened
·The groundbreaking ceremony of the 35-acre self-built factory building in Taicang Port started
·Undertake laser welding project of Beijing Benz's first fully automatic battery automatic production line
·Foreign exchange earns over US$3 million
2017
·Undertake the first all-aluminum body-in-white body trial production line project, breaking through the integration capabilities of FDS, SPR and other cold connection technologies,
·Undertake the first laser welding project of military titanium alloy products, and further expand the application field of laser welding of new materials、
·Approved by overseas capital in August and transformed into a Sino-foreign joint venture
·Co-developed the first self-developed fully-automatic turbine lever 2D laser welding system in China with Kehua Holdings, continuously delivered 2 sets of workstations and annual sales exceeded 100 million
·Annual sales exceeded 100 million yuan
2016
·The R&D Division was established, and the sale of the first self-developed product FFS was realized
·Joined Weilai Automobile Supplier System, and undertook ES8 vehicle aluminum alloy laser welding process development and testing projects
·Joined Geely's supplier system to provide Arplas four trial production stations for Geely Research Institute
·Obtained D&B certification
·Completed the first round of financing in August
·Join the BMW Supplier System
·Joined the SAIC Volkswagen supplier system and became the first laser three-spot process application integrator
·Won the title of high-tech enterprise in Jiangsu Province
2015
·Obtained IS0-90001, ISO14001, OHSAS18001 management system certification
·Signed an Asia-Pacific strategic cooperation agreement with Swedish PERMANOVA
·Signed the only agency agreement for LSK05 laser head products in China with Thyssenkrupp of Germany
·Signed a strategic cooperation agreement with the US MBE in the Asia-Pacific region
·Co-constructed a 2000㎡ professional high-power laser laboratory with the Taicang High-Tech Research Institute of Tongji University
·Joined Korea General Motors (GMK) supplier system and signed the first overseas order
·Joined SAIC's passenger car supplier system and developed the first roof laser brazed model for it
·Joined SAIC's GM supplier system and delivered multiple laser welding stations and robotic hemming islands
2014
·The company was founded on July 31, and the factory was settled in Taicang Port Area + Pictures
·Signed the first order in September
·Join the Volvo Supplier System
·Annual sales: 13 million yuan